TPLink Archer C6v3.20 vs TPlink Archer C64 | Best Option?
Assalamu alaikum, today I will talk about the difference between the two routers.
One is TP-Link Archer C6 V3.20. Another is the Archer C64 of the same band And the confusion in your mind that TPLink Archer C6 is better or C64 is better? Which should actually be taken? You will get the answer to this question today And at the same time you will know that if there is any kind of condition you will buy C6 V3. And C64 in any condition.
Well. First of all, let me tell you the difference between the two frequency bandwidth both are dual brand router. You have two frequencies between the two One for 2.4ghz and one for 5ghz You will get eight hundred and sixty seven Mbps for both the 5ghz bands. Go to 2.4ghz and get the difference The TPLink Archer C6 V3 has three hundred Mbps 2.4ghz and the C64 has four hundred Mbps.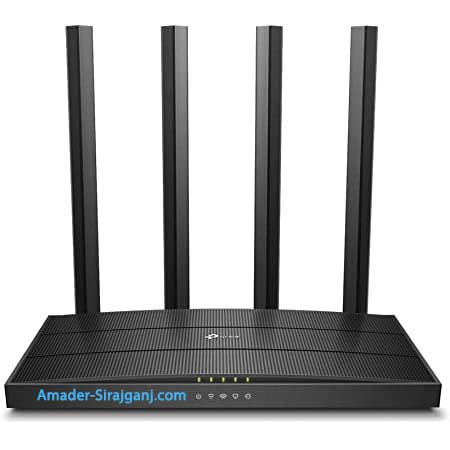 Although this thing is written both on their website and in the box but when I did the test I did not find any way above three hundred Mbps
Even increased the channel width of C64 to 40mhz but not able to get above three hundred Mbps Secondly TPLink Archer C6v3 you will get a system like one mess technology called One Mess.
You can combine multiple range extensions of OneMed support to create a one-mess a centralized one-mess technology. The TPLink Archer C6 V3 will be in the middle every side will be One Mess Support Range Extender and One Made Support router. These are combinations. You have a centralized One Mesh technology with you can create a system like Whole One Mess WiFi system. It will help you to extend the range but the thing is costly And C64 does not have this option
CPU
The TPLink Archer C6 v3 uses MediaTek's dual core CPU with a clock speed of 880 MHz. Qualcomm CPU has been used in C64.t is a CPU of one 1.2ghz. And it's being single core. Eight hundred and eighty mega hertz would be good? Or single core CPU 1.2ghz would be better? I will explain this to you in the next part of my video. The difference that I will talk about is very important to most of the user.
The range.
And C sixty four this router is quite ahead in this range You can get a range of fifteen hundred square feet from any house of fair quality from C6 V3. That is, if your home is absolutely open You will notice that it is not going to be in the range of fifteen hundred to sixteen hundred square feet Suppose again that there are some houses, a little curved star, two rooms, this way, two rooms, that way, again in the middle of the lobby.
There is another room on that corner. So your TPLink Archer C6 v3 struggles quite a bit in the homes that have this kind of structure But the C64 Four router is weak again If your home is not very cluttered, which means it is not very cluttered, then you are about two thousand from here. You can easily get a range like 2000 square feet. So in any condition the result of our personal test is yours Compared to the C6v3, the C64 Router's range is more than about four hundred to three hundred and in some cases five hundred. now, the performance The gain of two outer antennas is the same but 5 dbi. But you have heard that compared to C six v three
The range of C64 is higher. So what's the reason?
Before that you need to have a little idea about the CPU of these two routers. So the CPU of a CPU, that is, the CPU of the router, said any CPU. There are usually two parts. One is the core The number one tax is the clock speed Clock speed will depend on how fast the data processing of the router will be And the core will depend on how much multi-tasking he can do together and how well it can do it The router clock speed and number of cores of these two are given alternately with each other In other words, you will see that the number of cores is more in one and its mega hertz is less,
| TPLink Archer C6 |
In another, you will see that the number of cores is less but its mhz is more. That means the clock speed is higher. That is, the lower the core, the higher the clock speed. And the higher the core, the lower the clock speed For example, C64 has four four-core but single again clock speed but twelve hundred mega Hertz thats means this router will be able to process data much faster than C6 V3. The number of devices will become extra when you are at home again You will continue to do a lot of heavy work with them. like gaming , streaming etc. then you will need more multi tasking processors. This means that the dual core processor will be more effective here Plus, the router will have options in the firmware, such as quality of parental control or specialized features like airtime fairness.
Features can also be run but your multi-tasking processor that they do very well So if you think about it, your c6v3 is far ahead of C64 in terms of multi-tasking The thing to understand here is the C64 router
Can process data very fast. But he will not be very good at multi-tasking. Since its core number is single. On the other hand, TPLink Archer C6v3 data processing rate is low but is ahead in terms of multitasking. Because its processor is dual core In the case of two routers, I am talking about your clock speed and number of cores. The inside of these two router And one of the difficulties is to compensate .
|TPLink Archer C6| TPLink Archer C6 | TPLink Archer C6 | TPLink Archer C6|
How do you compensate for the slowness of your processing rate in TPLink Archer C6 V3 so that there will be a delay?
But he can compose it again through multitasking as he can do multi-tasking again through multi-tasking.
C-64 router
The problem of multi-tasking due to your single due to high data processing will be a little compensatory.
This is why I said that the two advantages of the two alternately that they gave this one and gave another one. These two advantages will basically compensate the other two disadvantages. Due to which you will get almost equal performance from the outer of these two. There it is. You will get nineteen twenty or eighteen twenty performances. Too much of this will not mean a lot.
So as much as there is a difference, you get better performance from three C6 V3 Now the range, so the router on which your data processing is high, that is, the clock speed is higher. For example, the clock speed is higher in C64 In the case of these routers, it is seen that they are very high rangy. In other words, the range is very high So, this router has good data processing so you can enjoy very good speed from this router even in long-range. this core and clock speed is how it affects the performance of that router there and that range there.
READ ALSO: Free Gooogle Drive Unlimited Storage 2022
I will make a detailed video very recently. If you watch that video, that will be quite relatable to today's video And you can relate and your idea will actually be clear. Since the comparison video I am not including those things here anymore Be aware that if your range is not too much and if your home has many types of devices.
If you do a lot of work on the devices and you decide to buy one of these two routers then It would be better to choose TPLink Archer C6 V3. But if you like the range ,the number of devices is also a little less. Multi-tasking will be less there but the range You can safely close your eyes. C64 is your choice between these two routers. Here are some tips for C6v3. If you have any doubts about your bandwidth, If it seems that the data speed of your line is not accurate. In other words, the download speed does not match with the band width that you have taken. It would be better for you not to take TPLink Archer C6V3.
Because since your multitasking work, This means that he will do a lot of multi-tasking and as a result of this multi-tasking is yours data you upload or download is either narrow bandwidth, congested bandwidth, or bad bandwidth.
Traveling may not be possible and if there may be a problem with this traveling If there is a problem with data exchange then you will see that your router is leaving the net The blue light on your router on the internet will show that the orange light is showing. As soon as you do the orange show, you will see your net is gone It can manually calculate the data speed and data rate.
But when it doesn't match, he calls it a bad line and leaves the line. So this is not a router problem at all. This is the problem with your net line. Router problems can be a different matter. One in two. And you'll see that there's a lot of complaints about this C6 v3 that leaves the line.So the line is actually left because the quality of your bandwidth is poor.
The bad quality that is coming is not acceptable to this router. So this thing is not in C64 again, I see any kind of line that can actually accepted by C64 So, if you think you have a problem with internet line, have doubts about the quality of your line.. then , you can go for C64.
আমাদের সিরাজগঞ্জ এর সর্বশেষ আপডেট পেতে
Google News
ফিডটি অনুসরণ করুন